Brown's Restaurant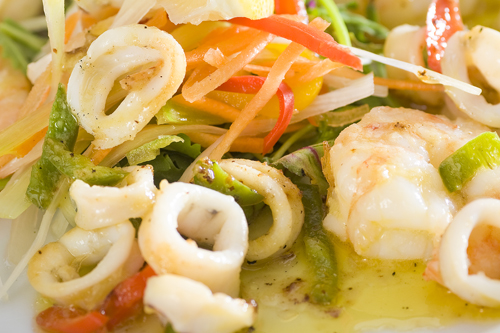 We bring you
Tiger prawns and Calamari
from Mel Brown, Proprietor/Head chef of Guernsey's newest restaurant "Brown's" in the Old Quarter of St Peter Port.
Brown's has built up a strong following since opening its doors in January, and Mel and the team are really pushing the boundaries of service and food which is winning favor with locals and visitors alike.
Brown's has an extensive menu and no matter what you are after, if it is in the kitchen,
you can request it - Brown's motto of "the choice is always yours" really is true.
Tiger prawns and calamari - serves four as a starter.
Ingredients
12 tiger prawns (size 16-20 peeled and de-veined)
1lb calamari (cleaned and cut into rings)
teaspoon of finely chopped chillies
teaspoon of garlic
tablespoon of olive oil
2oz of Guernsey butter
Method
into a shallow frying pan add the olive oil and the chillies then add the prawns and calamari rings fry for around 3 to 4 mins till the prawns are pink and the calamari tender add the garlic and the Guernsey butter mix well and serve with a few mixed leaves and the juices from the pan.
Serve with loads of crusty bread and enjoy ............
For more information or to make a booking at Brown's:
Telephone:727268
Email:
eat@browns-restaurant.co.uk
Website:
www.browns-restaurant.co.uk
Location
Brown's Restaurant
15 Mansell Street
St Peter Port
Guernsey